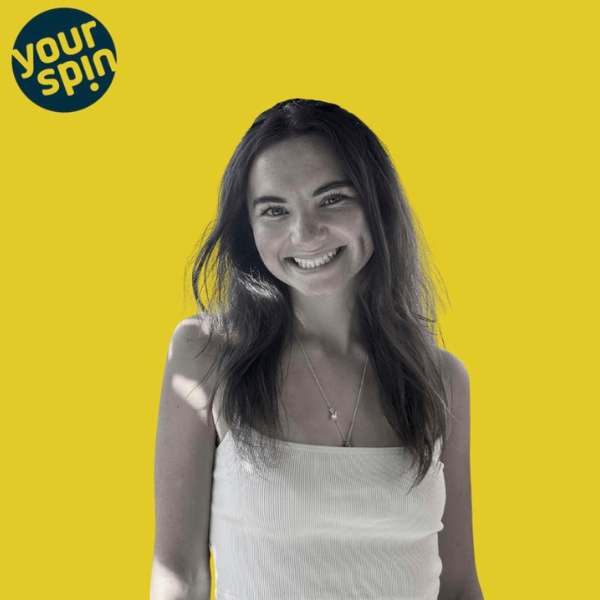 Eilidh Mutch is the founder of Your Spin Limited, an in-venue activation game for the hospitality sector.
Eilidh Mutch graduated from the University of Dundee in the summer of 2021 with a first-class degree in Business Management. Many of her friends went on to graduate schemes, but she didn't feel this was the right avenue for her, so worked in a hospitality job whilst she decided what to do next.
From her experience through front-of-house roles, Eilidh felt there was a need for a refreshed loyalty rewards system that matched the behaviours of modern consumers. She found the existing systems were broken and points and stamps were incompatible with the demands of most customers: they were often clunky, slow, and overused. The way brands were communicating with their customers was old school and never came with any real-date insights.
Eilidh felt gamification and instant gratification could be the answer. It could be used to improve the chances of reordering, extend customers dwell time and improve overall customer experiences, all while bringing customers closer to brands. Your Spin gives customers the opportunity to spin a virtual wheel for potential prizes when they scan a code after placing an order. Its data-driven approach allows companies to track performances and provide insights into their consumers' behaviours. Offering companies real-time data, at the point of purchase, in-venue.
Raising the money and proving the concept
Eilidh pitched her idea to her friends and a few former colleagues at events companies she had worked at. They loved the idea. Through her persistence and networking, she was able to get in front of the right people, pitch her idea and managed to get financial backing to make the idea a reality.
They agreed to provide an initial upfront round of funding, and a second follow-up investment if she could prove the concept.
Eilidh closed her first-round raise in December 2021 and had a second-round raise in April 2022, which allowed her to build the product, conduct weeks of trials, collect data, and finally engage her first-paying customers.
Eilidh has begun working with some of the biggest drinks companies, with the likes of Heineken and Brewdog who are interested in modernising their customer activation promotion mechanisms, moving beyond the more traditional methods of such as posters or billboards. Brewdog doubled their sales in the first week of using Your Spin during a pilot period. Feedback has been overwhelmingly positive from customers, staff, managers and venue owners as well. Your Spin initially ran activations in Edinburgh but has now got customers playing Your Spin in Orkney, and soon to be Glasgow and London.
Despite, early success, Eilidh has remained cautious and kept money in the bank for future expansion. As a next step, she is looking to hire some full-time staff and expand to more venues in the UK.
Taking on advice and building a network
As a very young entrepreneur, Eilidh has looked to those around her for support and guidance. When looking for investors, she hasn't just sought out those with the money, but those who could offer her experience in different sectors, including in tech, hospitality, data and marketing.
Her father has been her most significant mentor, having built and sold a successful business over the course of a ten-year period. Eilidh pointed out the importance her dad placed on networking for business opportunities and will be forever grateful for the skills he has taught her.
Eilidh has found many of the networking events she attended were very male-dominated and has found it much harder to connect with women, and in particular younger women. She hopes with the rise in the number of investment deals completed by women-led companies, this will start to change.