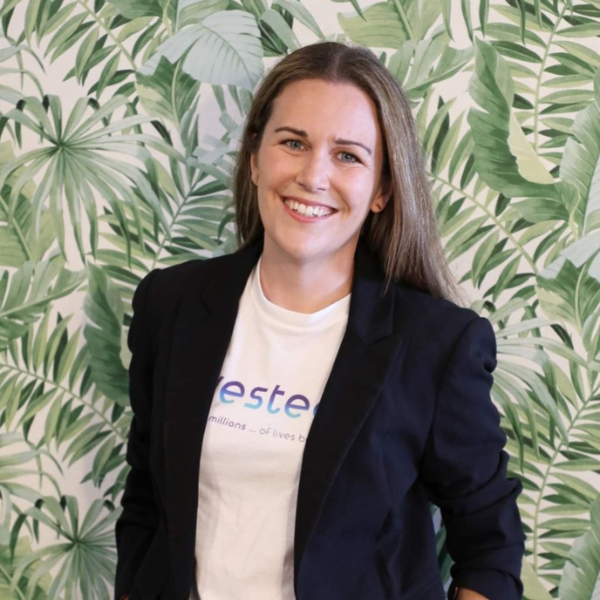 Vested is on a mission to redefine "millionaire" to be a person who impacts millions of lives – instead of one defined by their earnings. They are doing this by providing data to measure the impact companies have on the world around us, allowing us to measure what matters and redirect $5Tn into companies solving the world's greatest challenges. Founder and CEO Kimberly Abbott shares the Vested Impact story as well as her best advice.
How did the idea for Vested come about?
In 2019, I wrote on my whiteboard in my room "How do we solve all the world's biggest problems?" I wasn't naïve enough to think that I, as one person, could solve all the world's problems, but it was about pursuing a problem so important, that even if I failed, the world would be better with me having tried. So, I created Vested Impact.
Can you tell us more about the problem Vested Impact is trying to solve?
If we are to come close to solving the greatest social issues the world faces -including climate change, poverty and food security – we need to find approximately £5Tn a year in funding. The only place in the world where we can easily find £5Tn is the capital markets. But, to mobilize the money of the capital markets we need to measure what matters: impact.

Existing ESG metrics look at how a company 'behaves' and are inward risk metrics, but to truly leverage the power of companies, and those that invest in them, we need to look at how a company's products and services contribute to helping (or hindering) societies biggest challenges: we need to measure impact. If impact investing is our rocket ship to social change, then impact measurement is our navigation system. Vested was built to solve this.
How does your business do this?
Vested Impact is a data platform that assesses and quantifies the impact that companies have outwardly on the world's greatest challenges – everything from climate and poverty to biodiversity and inequalities. We do this by leveraging over 200 million academic articles and over 100 million impact data points from the UN, World Bank and leading organisations.
So, how did Vested Impact come about?
I am an engineer by background, and I have been a founder before; founding an award-winning social enterprise in India focused on the economic empowerment of women. When I created Vested I was working at the United Nations leading the development of their data platform to assess the performance and impact of global Peacekeeping Operations. I have seen first-hand the power of using the right data to ensure that where money went, impact would follow and whilst I knew helping the UN improve the impact of their $8Bn Peacekeeping Operations was hugely impactful; improving the impact of the $200Tn capital market could change everything.
What are the biggest challenges you have faced as a business?
With my background and expertise as an engineer and in impact, building a data platform that people thought wasn't possible, leveraging hundreds of millions of data points, to automatically assess the impact of tens of thousands of private companies has always been the easy part! However, fundraising and getting investment for my company has been the greatest challenge. Vested was bootstrapped with an angel investor from Australia kicking us off in 2019 with just £25,000. We were fortunate to win some grant funding from Village Capital in 2020 which allowed me to bring on a team member.
We were then part of the 2021 Accenture FinTech Innovation Lab, and the 2022 FCA & City of London's Digital Sandbox; where we delivered a pilot with Standard Chartered Bank. We were part of Ashurst's Legal Labs and UBS' Project Female Founder, we gained paying customers, including the United Nations themselves, and myself and Vested won many awards and recognition; I won the 2022 UBS Female Founder Award, we were named in 2020 100 Meaningful Businesses, and in November 2022 Vested was just 1 of 4 organisations globally, and the only in the private sector, to be selected for "measuring the non-financial impact of companies" to present to World leaders at the 2022 Paris Peace Forum.

And while raising significant funds eluded us, at the end of 2022 we received a micro-investment from the female-led fund Impact Shakers, and got some additional angel investment from a female angel.
What advice would you give a female founder thinking about starting up a business?
Running a business, and fundraising is a constant roller coaster. Whilst there is all manner of good advice on pitching and business plans, my greatest advice for any female founder is; the most important person you will lead is yourself. You need to take care of yourself and your mental health.
Many people will talk about 'founder resilience' in the start-up world, and I think we as women, often view that as having to do it all, all the time. I read an interesting quote from psychologist Esther Perel last week; "Resilience is not a bunch of traits in an individual. Resilience is the ability to tap into the collective resources". When I look at my journey as a founder, I was most resilient when I was courageous enough to ask for help or tap into the support of my wonderful group of mentors, advisors, networks, and resources. There are so many people who can help (including on this hub!) so never be afraid to take a break and ask for help.
So, what is the focus for Vested at the moment?
The focus is growing our revenue and scaling! The more people that use our data to allocate financing into companies that are helping our society and environment, the bigger our impact is. We are fundraising (I think as a founder you always are!) but what is truly important for us is finding investors who believe what we believe.
My vision is to "Redefine millionaire to be a person who impacts millions of lives" to change the way we value our money and its power… because since when was income the measure of what businesses are best value for our society?
I don't believe we have to choose between making a difference or making money, indeed I think doing both is the greatest chance we have to change the world.
And I believe Vested is what can get us there.